Outlook 2007 Truncated Messages with Office 365
Problem:
Your Outlook 2007 suddenly started truncating all Plain Text emails.  You use the Microsoft Office 365 email service.
Solution:
Spend hours on the phone with Microsoft support.  Reinstall Outlook.  Pull out most of your hair.
or
Change the download settings to Download Full Items.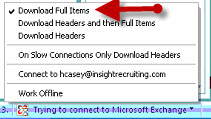 It seems that something with the new Office 365 updates has caused Download Headers and Then Full Items to become a problem and you simply need to change that setting.